CRIAÇÕES | WORKS
PERFORMER
PARCERIAS | PARTNERSHIP
OFICINAS | WORKSHOPS
BIO
CONTATO | CONTACT
HIPERLINK / VIRAGEM (LLL >>>>>
LAPSO
LAPSO - PONTO ZERO
IMATERIAL
GOTAS
ORÁCULO
ORGANÓIDES
BODIES IN THE URBAN SPACES
IMPRENSA | PRESS
ESTUDOS PARA CLARABÓIA
WELCOME TO THE MACHINE
HEINER MÜLLUER EM REPERTÓRIO
PEDRA BRANCA
A BELA ADORMECIDA
CHAIR | PILLOW
LA DESAPARICIÓN (ENSAIOS)
TEMPORAL
ENTRE
DEUS LHE PAGUE
PARA QUE SERVEM AS ESTRELAS?
ALICES
AULAS DE DANÇA
OFICINA - TEMPO E DISTORÇÕES
OFICINA - DESCONSTRUÇÃO ACROBÁTICA
E CRIAÇÃO EM DANÇA AÉREA
CAIXA BRANCA
DESLOCALOCA
AULAS DE CIRCO E CRIAÇÃO
CIRCO | CIRCUS
SAMSARA
RISCOS
SE ELES TÊM TRÊS CARROS
NÚMERO FICTÍCIO
OUTROS | OTHERS
AGENDA
MIRANTE DAS ARTES
MIRANTE DA DANÇA
DANCE TRIP
Privilégio participar desta coreografia concebida em 1969 por Yvonne Rainer, ícone da dança mundial.
A obra faz parte do "Continuous Project-Altered Daily", explicado no vídeo após as fotos.
A apresentação foi o resultado do workshop com Yvonne e as bailarinas de sua companhia: Pat Catterson, Emily Coates e Patricia Hoffbauer.
It was a privilege to participated in this choreography conceived in 1969 by Yvonne Rainer, icon of the world dance.
The work is part of the "Continuous Project-Altered Daily", explained in the video after the pictures.
The performance was the result of a workshop with Yvonne and the dancers of her company: Pat Catterson, Emily Coates and Patricia Hoffbauer.
Bailarinos convidados / Invited Dancers:
Alex Ratton, Alexandre Magno, Anderson Gouveia, Andréia Guilhermina, Andreia Yonashiro, Beth Bastos, Carolina Callegaro, Clara Gouvêa, Clarice Lima, Cristian Duarte, Gicia Amorin, Joana Ferraz, Julia Giannetti, Juliana França, Laila Padovan, Letícia Sekito, Margo Assis, Marilia Coelho, Marta Soares, Natália Mendonça, Patrícia Bergantin, Renata Fernandes, Sandra Corradini, Thelma Bonavita, Thembi Rosa.
Música / Music: River Deep, Mountain High - Ike e Tina Turner
Sesc Pinheiros, São Paulo/ Brasil. 2009

CHAIR/PILLOW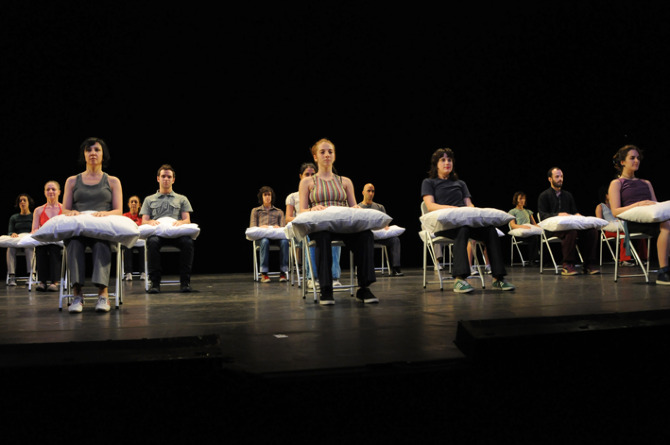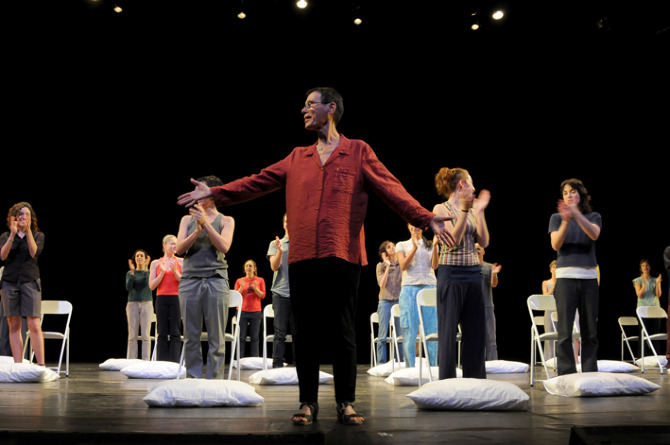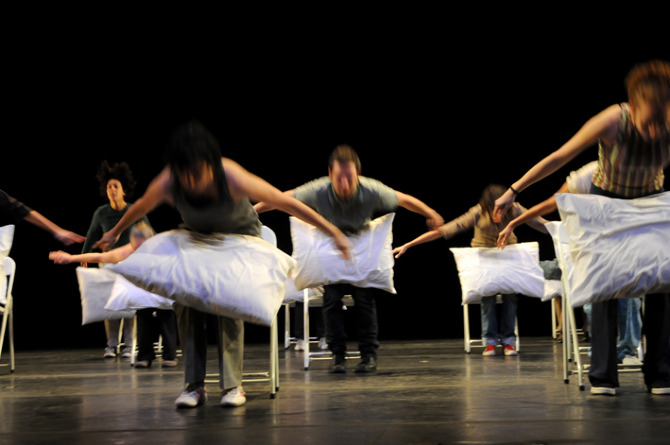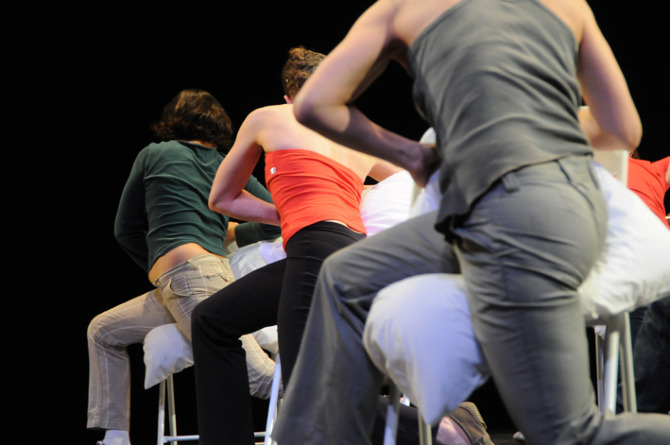 VÍDEO
CÍRCULOS E VACAS
CAIXA PORTAL
OFICINA MONTAGEM - MANIFESTO DOS SERES